Whether you're in need of small parts for industrial work or you require a business that handles aerospace CNC milling and manufacturing in San Jose, CA, JNC CNC Machining, LLC is the place to go. Our aerospace CNC machining team can perform a vast range of parts manufacturing jobs with all the care and attention you've come to expect from a family-owned and -operated aerospace CNC turning business. We pride ourselves on our wide variety of service offerings, including:
CNC milling and CNC turning
Model fabrication
Importing capabilities of IGS, DXF, DWG, IGES
Production/prototype
Quick turn around
Fair and competitive pricing
CAD/CAM surface modeling
Work directly from your blueprint
Our Machines
CNC SWISS TYPE MACHINES
1- 2015, Swistek AB 42, with a bar capacity of 1.50 inch diameter.
1- 2013, Swistek RB20, with a bar capacity of .750 inch diameter.
1- 2017, Swistek RB20Y, with a bar capacity of .750 inch diameter.
1- 1992 Citizen VII 16 with a bar capacity of .625 inch diameter.
1- 2014 CUBIC CNC TURNING CENTER. Second op Machine
CNC Milling Centers
1 2010 Yama Seiki 30X40 Milling Center
Aerospace CNC Machining & More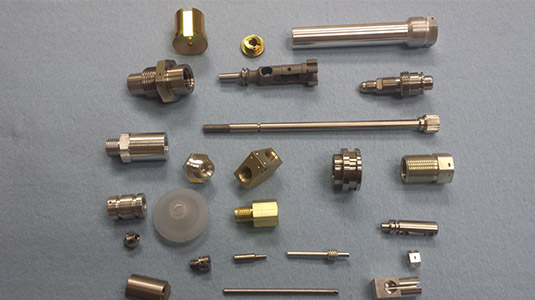 In order to provide such a vast array of CNC machining services, we have to be proficient in working with a variety of materials. Among the materials we regularly manufacture parts from are numerous varieties of stainless steel, copper, brass, monel, titanium and various plastics.
Expertise with different types of machines and equipment is another key facet of our business. Here are some of the machines we work with on a daily basis to ensure you're getting the parts you need at the quality you demand:
Milling machines
Manual mills
Manual lathes
CNC turning and milling machines
Saws
Swiss type screw machines
Inspection tools
An additional aspect of our work, particularly in highly regulated industries, involves abiding by certain important quality control specifications. We also work with a variety of software in designing and manufacturing the parts our customers need.
For high-quality machine parts, or when you need someone who can operate an aerospace CNC milling machine in San Jose, CA expertly, call JNC CNC Machining, LLC at 408-920-2520 to learn more about why our customers have made us their top choice for parts in the area.
CNC Screw Machining: JNC CNC Machining, LLC prides itself on high-quality products and offers affordable and prompt turnaround for custom screw machining for our clients in San Jose, CA. We work with metals such as steel, stainless steel, brass, copper, aluminum, and much more. We have all the necessary screw machining equipment and knowledge to fulfill anything you require. Contact us today with any questions about your aerospace CNC turning order.